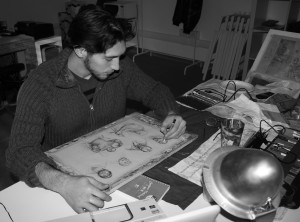 My name is Michele Giorgi and I'm a fantasy artist/illustrator.
I was born in Barga on January 8, 1989. I've attended the Art School A. Passaglia 2003-2009.Then I've continued my studies at the International School of Comics in Florence until 2012, specializing in illustration, through the use of traditional techniques (watercolors, acrylics, oil paints) and digital (digital painting, photoshop) including metrics and settings for publishing projects in various sectors, such as childhood, science, novel, fantasy, science fiction.
I've worked mostly with private clients and companies such as:
Mantic Games, Onix Path Publishing, Crafty Games, Pinnacle Entertainment Group, Catalyst Gamelabs, Rite Publishing, Desert Owl Games, Upper Deck, Alderac Entertainment Group, Legendary Games, Hex Entertainment and Fantasy Flight Games).
Publications :
Star Saga, Hex: Shards of Fate, Thunderstone Quest, Dread Draw, Pox Nora, Deadzone, Kings of War, DreadBall, DreadBall 2, Mistborn: House War, Shadowrun: Howling Shadows, Shadowrun: Forbidden Arcana, Shadowrun: Court of Shadows, Legendary DXP, Firefly, Scarred Lands, Wraith 20, M20 Book of Secrets, Dragonfire, Pathfinder.